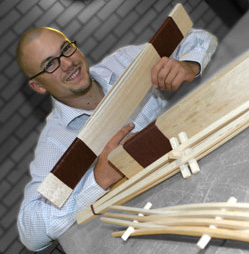 Following an Art and Design Foundation Course at Nene College, Northampton, Martyn studied Fine-Art Sculpture at Loughborough University, graduating with a Second Class Honours, Upper Division, Degree in 2002.
Since then he has worked as an Artist-in-Residence at several schools and colleges and his work has been on show at art exhibitions throughout the UK.
Martyn lives on a narrowboat on the River Nene and works mainly from his studio workshop at Upper Harlestone in Northamptonshire. He also uses the family blacksmith forge in Newtondale, North Yorkshire.
Martyn works mainly in stone, steel and wrought iron, forging a unity between his environment and sculpture. There is a permanent and constantly changing exhibition area at the Northamptonshire studio with sculpture and paintings available for sale or commission.
Martyn Paul Sculptures, The Old Carpenter's Workshop, Estate Yard, Upper Harlestone, Northampton, NN7 4EH.